Recently we have been going through the book of Romans during our Wednesday Night Bible Study. One of the things that has stuck out to me is how much Romans talks about our ongoing battle with sin. Paul writes in Romans 7:22-25…
For I delight in the law of God, in my inner being,  but I see in my members another law waging war against the law of my mind and making me captive to the law of sin that dwells in my members.  Wretched man that I am! Who will deliver me from this body of death?  Thanks be to God through Jesus Christ our Lord! So then, I myself serve the law of God with my mind, but with my flesh I serve the law of sin.
Even the Apostle Paul admitted that he struggled with sin, it was an ongoing battle for him. He realizes that he is a wretched man and that his only hope of deliverance is through Jesus Christ! Paul not only shows us a great example of how even the most godly of people still battle sin but also how we should be willing to share our struggles and battle with sin with other believers.
The local church should be a safe place for us to share and discuss our ongoing battle with sin.
By safe place I mean a place where its not intimidating or uncomfortable to talk about our battle with sin. Too many times people come to church and feel like they have to act perfect, that we can't possibly let anyone else in the church know about the struggles we are currently facing. This idea though goes directly against what the church is all about. The whole point of the local church is that it provides a place for us to work together to glorify God and to build each other up in Christlikeness. Listen to Galatians 6:1-2 …
Brothers, if anyone is caught in any transgression, you who are spiritual should restore him in a spirit of gentleness. Keep watch on yourself, lest you too be tempted.  Bear one another's burdens, and so fulfill the law of Christ.
We are instructed to bear one another's burdens and the burdens the Bible is talking about here is primarily burdens of temptation. We are told to do two things to help us avoid falling into sin, first to keep watch on/over ourselves and secondly to bear one another's burdens.
A key point is that we are to share our burdens in our ongoing battle with sin, we are not to just talk about our sin and temptation. Sure there might be some lamenting or at times we might just need to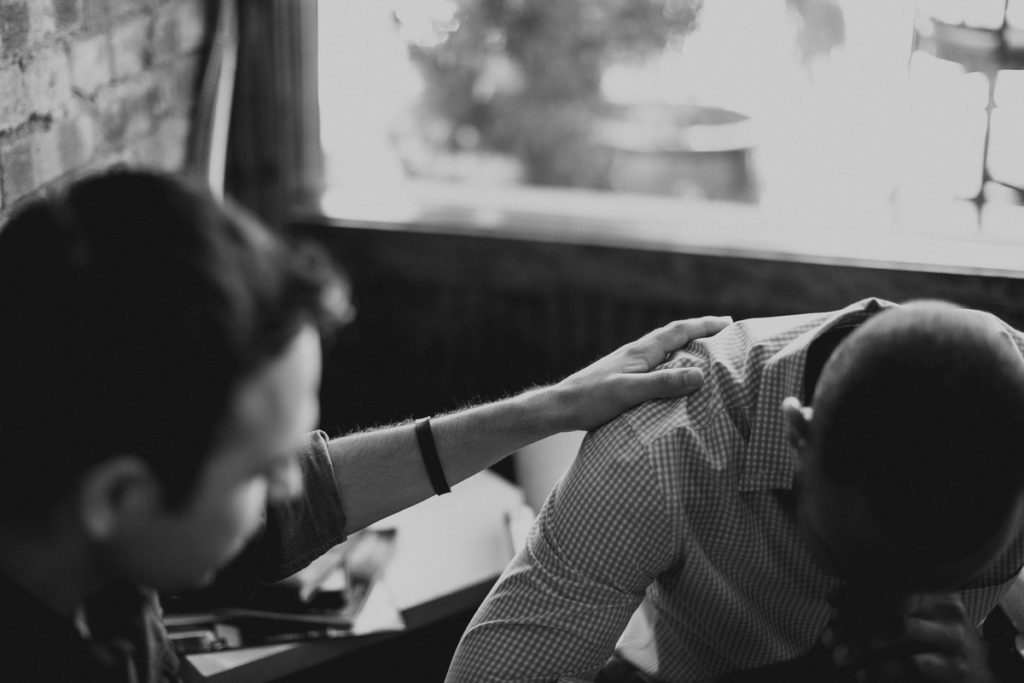 vent about what we are going through but ultimately we are in a battle with sin and the flesh. The purpose of bearing one another's burdens in this battle is to help us fight the battle. We shouldn't be glorifying our sin in anyway, excusing our sin or just looking for justification from others in our sin. Its popular today for Christians to talk about how we're broken, for stay at home moms to talk about how out of control their homes are, their kids are crazy, etc, and yes we should be able to express those things but it should be done in the context of this is broken, now pray for me and help me to put it back to where God wants it to be. Not talked about in the context of this is broken and look how cool and authentic I am that my home is broken. We should never be comfortable with sin. We should never use sin to make us look "cool" or "authentic".
Sharing one another's burdens isn't the same as airing all our dirty laundry publicly either. No, I don't think we should gather for Sunday Worship and go through the pews calling out all the sins we committed that week. No, I don't think everyone in the church needs to know your business and all about your struggles, but does anyone know? Is there anyone that prays with you and helps to keep you accountable? Anyone who encourages you and texts you bible verses of encouragement when you're struggling. The church shouldn't be a place that we feel pressured to act like something we aren't, it should be a haven of rest, encouragement, acceptance and help in our ongoing battle with sin.